ANNOUNCING  RECENT NCLG 
GRANT  AWARDEES!
Latin: Inspiring Future Teachers
LIFT Grant Award
Dr. Barbara Weinlich of ASU Tempe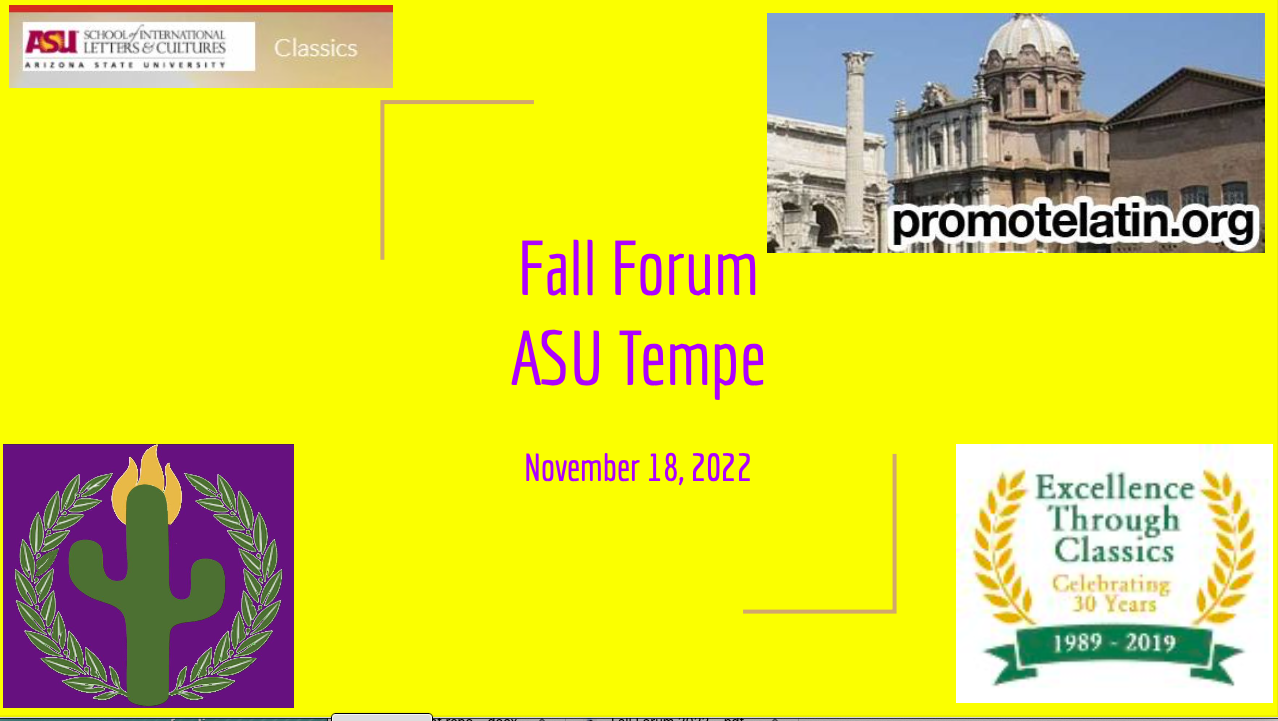 Read more about our L.I.F.T. grant
supporting Fall Forum 2022 at Arizona State University!
shared by the Classics Department
courtesy of Dr. Sarah Bolmarcich. 
On Friday, November 18, about 320 high school students and their teachers (from 7 different institutions and/or groups) from the larger region of Phoenix attended Fall Forum, a half-day event hosted by the Classics program at ASU in conjunction with the AZJCL and the ASU Classics Club Solis Diaboli. This Fall Forum was generously sponsored by grants from both the Excellence Through Classics and the National Committee for Latin and Greek. The program, curated by Dr. Almira Poudrier (ASU, Classics, School of International Languages and Cultures) and Sarah Palumbo (AZJCL chair and Latin instructor at Rio Salado), focused on introducing career paths for undergraduate majors in Classics – first and foremost that of the Latin teacher – and included various Classics-related contests, lectures on topics in Classics, a tour of ASU's Hayden Library and the Wurzburger Reading Room, opportunities to sit in on classes taught by ASU-faculty, and a service project.
Balancing the lectures and teaching presentations by ASU faculty, the active participation of two three high school teachers in this Year's Fall Forum offered a first-hand experience of what their profession may look like in and beyond the classroom: Magister Yaggy's presentation entitled "So you want to be a Latin teacher!" was complemented by Magistra Reveceur's workshop on Greek Theater Masks as well as by Magistra Palumbo's involvement in and tireless work during the organized event as chair of AZJCL.
An all-together new experience for the 320 participants were the prizes that the ASU Classics program was able to hand out thanks to the generous L.I.F.T. grant from the NCLG: Copies of the Oxford University Press Short Introduction-series for the winners of the certamina, 'I Love Latin'- buttons for the winners of the scavenger hunt, a stuffed Pegasus and Doric squeeze columns (Kudos for the ETC-store!) for the winners of the impromptu-art contest. Evidently, these prizes will not end up in a box at home; rather they will be lasting memories of the visit of Fall Forum 2022 and hopefully also inspirations for taking Latin (and, of course, Greek and Classical civ-courses) as a future undergraduate.
Report submitted by Dr. Barbara Weinlich, ASU Tempe Classics Department, 12/22
Supporting Young Learners Grant Awards
Sam Salcedo's Latinx Outreach in NYC
Sam Salcedo with the support of her high school Latin teacher, Lyla Cerulli, at Dominican Academy in New York City, has launched a new outreach program!Her project has also been inspired by Lupercal, for whom she is high school intern. Sam writes, "Many students would benefit from my activity book that would be enhanced with the help of the ACL books I plan to buy [with the SYL grant funds]. Inspired by the lack of Latinx Latinists in the United States, I hope to foster interest in Classics and Latin from an early age, and my main goal is to share my unique experience and knowledge as a Latina Latinist.   My activity book uses themes and derivatives pertinent to Spanish and Latin and is available in the National Humanities Center 'Humanities in Class' Digital Library!  My hope is that my book will help Latinx children gain a greater understanding of their vernacular language and other languages derived from Latin. My main audience will be children of Latin American immigrants who, like me, grew up speaking Spanish at home and English at school. My idea to get the word out about my project is to make and send "PR Boxes of materials and use social media." Let's stay tuned for future news on Sam's project!
             A New Middle School Latin Program
Robin Schneider is a principal at St. Peter Catholic School, in Monument, CO, and she herself will be teaching a NEW Latin class at her school this year! She contacted our SYL Chair, Zee Poerio, since she had heard that Zee had been using elementary and middle level materials to bring Latin into her Catholic school in Pittsburgh. She was looking for the best suggestion for age-appropriate texts for her students and for additional ideas for creating her new Latin program.  She is very excited to begin this journey into Classics and JOINED ACL immediately and is looking forward to networking with other members! Robins remarks, "We are just starting a new Classical Curriculum [at St. Peter] and due to its story-based approach, we really liked the Cambridge Latin series. We are going to teach 6-8th grade starting with Unit 1 this year and then in consecutive years, 6th grade will be Unit 1, 7th grade - Unit 2, and 8th grade Unit 3. Approximately sixty students will benefit from the grant funds we used to purchase the books [in the first phase of the program]."
We wish Robin every success!